Custom SEO and AI – for Topical Authority and Google Page One Ranking
Expert SEO Services: Delivering High-Quality Online Visibility Fast, and Attracting Your Unique Target Audience Online
Expert SEO results help businesses reach and engage their target audiences faster.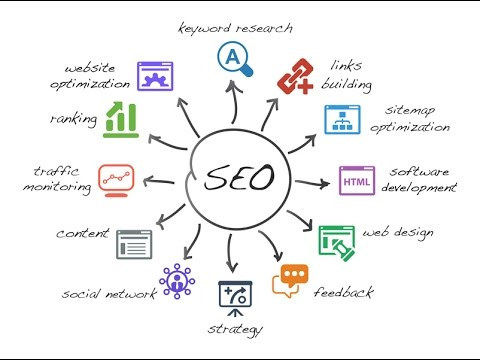 What is SEO?
At its core, SEO (Search Engine Optimization) is the art and science of making websites more visible and attracting more online visitors.
SEO experts use strategies and tactics to make content show up higher on Google and other search engines.
Expert SEO skills and methods can be quite extensive, involving keyword research, website wordsmithing and backlinking, to name just a few.
SEO Challenges in the Dawn of AI
For most businesses, SEO has already morphed into a two-headed monster.
The battle to rank your website and your content organically on Google Page One is nothing short of fierce. Millions of pages of content fight for the dozen or so top spots on Google's first page of search results.
Be forewarned that in the age of AI (Artificial Intelligence), competition for eyeballs will continue to escalate – to unimaginable heights, and at the speed of light.
SEO is no longer a game that hobbyists will win. It's either "Go Big or Go Home". How do we do that? We use SEO and AI… 
SEO and AI Mastery
AI (Artificial Intelligence) technology will continue to completely disrupt the SEO industry and SEO Best Practices. Savvy SEO experts all over the world are scrambling to master AI and apply it to the art and science of SEO.
In essence, SEO and AI together are capable of creating gi-normous volumes of content: high quality, relevant, and meaningful keyword-optimized content – that is highly articulate, interesting, delivers tremendous value, establishes Google Topical Authority, that organically ranks on top of search results.
The old ways of SEO will no longer work in this new world. The sheer power and magnitude of AI capabilities are forcing SEO experts to literally adapt or die.
What Exactly is AI?
AI is the process of replicating near-human, seemingly intelligent and meaningful output. AI software uses complex algorithms and massive databases to replicate human capabilities. Examples of its capabilities include: understanding human language, answering questions, writing meaningful content in any format, problem-solving, decision-making, and learning.
SEO and AI are now married, due to the evolution and adoption of ChatGPT technology. This may sound quite technical, and it is. But hang in there while we lay the groundwork – before we tie it all together.
SEO and AI – Using ChatGPT
ChatGPT technology is a conversational AI model. It uses 'deep learning' techniques to understand and respond to queries with human-like text-based answers. It can engage in natural language conversations, answer questions, provide explanations, and offer suggestions.
ChatGPT is a versatile tool for business applications such as writing any type of content, automated customer support, and virtual assistants.
Google's SGE Upends SEO and AI
The world will continue to be turned upside-down and sideways by Google's Search Generative Experience (SGE).
SGE refers to Google's new interactive search interface powered by generative AI models. It allows users to explore and discover information through conversational prompts, enabling more natural  interactions – like conversational searching  which generates human-like responses in real-time.
Organic ranking is forever changed.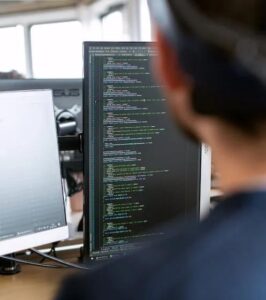 Secret Weapon of Top SEO Experts : Prompt Engineering
Prompt engineering is like crafting a recipe. Just as a chef carefully selects and combines ingredients to create a delicious dish, Prompt Engineering involves skillfully selecting and arranging words to produce the desired output from an AI model.
…But not just any chef crafting any recipe. And not just any skillfully chosen words…
THINK: Culinary Maestro meal with Sommelier Choice vintage wine VERSUS frozen chicken pot pie with city tap water. 
Here are some examples of how expert SEO Prompt Engineers gain competitive advantages in the new world of SEO and AI…
Healthcare-Related Examples – SEO and AI Prompt Engineering:
Electronic Health Records (EHR) Integration:
This specialty involves engineering prompts for AI models to effectively integrate with electronic health records systems. Mastery in this area requires in-depth knowledge of healthcare data standards, interoperability challenges, patient privacy regulations, and the ability to design prompts that elicit accurate and meaningful insights from EHRs while maintaining data security.
Technology-Related Examples – SEO and AI Prompt Engineering:
Natural Language Processing (NLP) Applications:
This specialty focuses on prompt engineering for NLP models to develop applications such as chatbots, virtual assistants, and sentiment analysis tools. Mastering this field requires expertise in understanding linguistic nuances, text preprocessing techniques, feature engineering, and tuning prompts to optimize NLP model performance and user experience.
Online Marketing-Related Examples – SEO and AI Prompt Engineering:
Search Engine Optimization (SEO) Content Generation:
This specialty involves prompt engineering to create content that aligns with SEO strategies and search engine algorithms. Mastering this specialty requires knowledge of keyword research, understanding user intent, crafting compelling prompts to generate optimized content, and staying updated with SEO trends to drive organic traffic and enhance website visibility.
Please note that these specialties represent broad areas within each industry, and there may be additional sub-specialties or specific applications within each domain.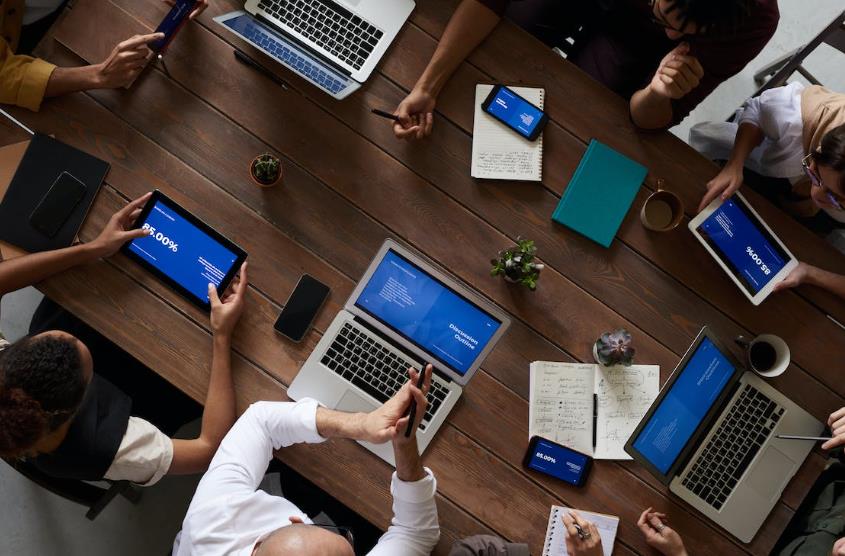 Expert SEO and AI – Lisa Chapman Consulting
Since 2005, we have created and managed predictably profitable organic SEO campaigns for businesses in an array of industries, including: Healthcare, Mental Health, Banking, Legal, Real Estate, Education, Internet, Technology, Software, SAAS, Publishing, Consulting, Retail, Recruiting, Furniture, Nonprofit, Politics, Social Services, and more.
HOW WE DO SEO
We specialize in Search Engine Optimization to get fast, organic ranking on Page 1 Google, YouTube, and other highly competitive social media platforms and search engines.
And we encourage you to consider an SEO and AI content marketing campaign that is professionally optimized for high ranking. You can solidify your online branding and save a significant sum in the long run.
As a white glove service, we accept a limited number of clients, with whom we work closely and make a measurable impact.
CHECK YOUR SITE'S KEYWORD POSITION
Where do your site's most important a or profitable keywords rank? Call to find out.

ARE YOU A GOOD FIT FOR OUR SEO SERVICES?
An example of a good fit for this type of focused SEO campaign is a B2C company that wants to acquire new customers and increase revenues through improved search engine visibility – that converts to more website traffic, phone calls and new revenue.
Organic SEO and AI help your website attract your unique target customers, and then tell your story. It's a must-have for competitive marketers.
TARGETED, BUYER-INTENT SEO SERVICES
Working with a professional SEO Consultant will help your business accomplish all this, and more:
Attract your target audience – and increase traffic to your site or offer
Reinforce your branding, credibility and online authority
Cross-market your other online activities, such as social media
Establish a more competitive position
Bring your business more money without a lot more work
BEST SEO – IMPROVE MY SEARCH RANKING
Our focus is not only on improving your business's website traffic and Google ranking positions. We also obsess over achieving your goals for branding, visibility, and increased revenue. What good is increased traffic if it doesn't lead to more customers and increased sales?
USE CASE – SUCCESSFUL SEO RESULTS LOOKS LIKE THIS…
Here's a case example from one of our retail clients:
When a consumer in Nashville TN is on the hunt to buy a pool table, they usually go straight to Google and search: POOL TABLES NASHVILLE TN.  After working on this client's website and content SEO, Google showed consumers these results: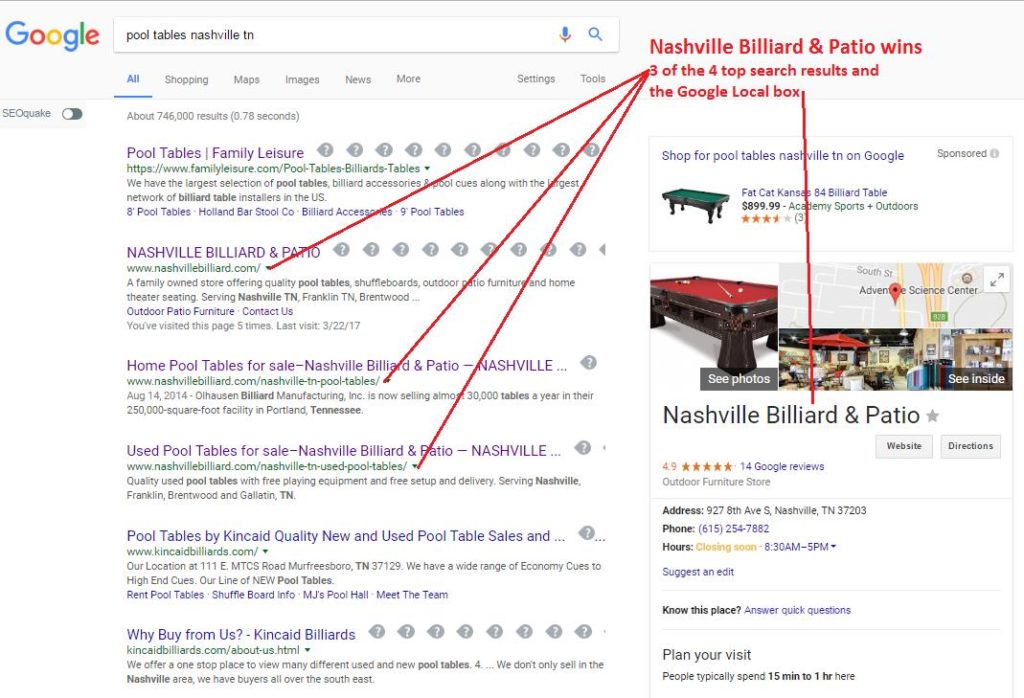 PAGE ONE GOOGLE
We achieved the ranking results in the screenshot above for our client Nashville Billiard & Patio, a family-owned business. Clearly beating out a larger corporate competitor, they occupied an unheard-of FOUR top spots on Page 1 of Google's SERP for their buyer-intent keyword phrase "Pool Tables Nashville TN".
We achieved this after carefully researching buyer-intent keywords and optimizing their website and content. These results attract buying  customers into their store. 
We also achieved top ranking on Google Page 1 for a long list of their best 'money' keywords, including:
"Shuffleboard Tables Nashville TN"
"Shuffleboards Nashville TN"
"Home Theater Seating Nashville TN"
"Kitchen & Bar Stools Nashville TN"
…and many more.
The owners of this company report that many of their customers first find them through internet search. That's our superpower!
While working the SEO plan, we started to see results after only a few months. These strong competitive positions on multiple #1-3 rankings for  buyer-intent keywords take exacting keyword research and specialized skills and experience to solidify. Every one of our clients is unique.
BOUTIQUE SERVICES
By design, we work with only a handful of clients, on a predetermined schedule – with ranking goals for their specific target keywords, winning top spots in the SERPs.
After we achieve and sustain a client's rankings, visitors, traffic volume and/or revenue goals, it may be possible to maintain those rankings with less work. That's when a spot opens up for a new client.
And, of course, that's an opportunity for you.  Before we let the word out that a new client spot may be open, we touch base with those on the waiting list to see if they're ready to start an SEO campaign.
'IMPROVE MY RANKING' SERVICE
If you're interested, we'll discuss your goals, take a look at your site, and research your top keywords to determine if we can help. If we believe that we can get your website and content ranked on Page 1 Google, then we'll discuss the details of the custom SEO strategy, plan and pricing.
Schedule a call to discuss your business goals.
We'll assess your SEO success potential and chat about the who, what, when, where and how of working together.