Break through the digital noise and captivate your audience:  
It's a digital jungle, bursting with competing messages and interruptive ads.
Yet one age-old art form continues to grab attention, captivate audiences, make a lasting impression, and drive growth campaigns. It's the art of storytelling, in content marketing.
LILY'S STRUGGLE:
Armed with an old laptop and a creative spirit, a struggling but passionate writer named Lily left her unfulfilling desk job to launch a blog for dog lovers. As her secret strategy for success, she planned to master the enormous power of storytelling in content marketing.
After a solid month at the keyboard, Lily had still not published a single word. She sat for hours each day, facing a blank screen and an empty printer.
She instinctively knew that in order to capture hearts and minds through story, authenticity was paramount. But day in and day out, Lily felt intimidated by the sheer volume of digital noise, and suffocated by writer's block.
A Sea of Self Doubt
Self-doubt spiraled into depression. The weight of perfectionism smothered her creative flame.
Ever the optimist, Lily's best friend Callen continued to call and text his encouragement. "You got this" and "I believe in you!" All Lily could think was, "Yeah, that makes one of us."
Tough Love
One night over a glass of wine, Callen resorted to tough love. He challenged Lily to confront her fears head-on. "Just start with one sentence, even one word. Imperfections are the threads that weave the tapestry of humanity.  Tomorrow, you're gonna JUST START. You have until noon to report back to me."
And so with her fluffy Bichon puppy on her lap, and Callen's insistent words in her head, Lily settled in and connected with her genuine voice. Stories began to flow out through her fingertips.
Let it Flow
Emotional connection became her guiding light online. She found her audience and listened to them. She engaged them in heartfelt conversations. Each interaction transformed strangers into eager followers, into virtual Ambassadors sharing her stories.
Lily's online storytelling experience is a testament to the resilience of the human spirit. It's a reminder that we can triumph over the greatest obstacles; through perseverance, authenticity, and the transformative magic of story.
The magic of storytelling in content marketing
Stories have an innate power to ignite our imagination, evoke emotions, and create connections that are unique and memorable.
What are the secrets behind leveraging storytelling in content marketing to its fullest potential?
How can businesses tap into this ancient technique to engage and inspire their target audiences?
In this article, we delve into the art of storytelling. In content marketing, it's pure gold.
We'll uncover hidden gems, strategies that can unleash the true potential of your content marketing plan. Get ready for a journey of discovery as we reveal the secrets that profoundly transform your brand's marketing game.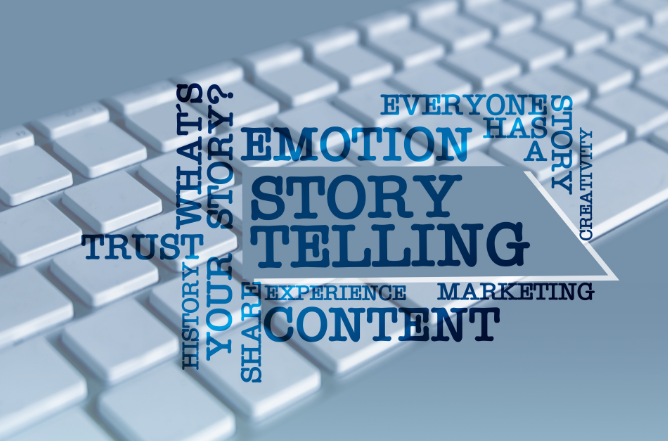 FAQ's: Storytelling in Content Marketing
What 3 things are at the heart of storytelling in content marketing?

Authenticity, emotional connection, and compelling narratives are at the heart of storytelling in content marketing. They drive engagement, build trust, and deliver value to the target audience.
What are the 5 C's of storytelling?

The 5 C's of storytelling are Character, Conflict, Context, Climax, and Conclusion. Together, these 5 elements create a compelling narrative that resonates and captivates the audience.
How do you use storytelling in content creation?

Storytelling in content creation involves incorporating narratives, relatable characters, and emotional arcs to convey information, evoke empathy, and engage the audience, resulting in a more memorable and impactful content experience.
Compelling Storytelling: Engage Your Audience from the Start
To captivate your audience with storytelling, the beginning is everything. It's the moment where you have the opportunity to grab their attention and attract them to invest in your content.
A compelling hook sparks curiosity and emotion
You could begin with an intriguing question, a surprising statistic, or a relatable anecdote. For example, imagine starting a blog post about travel by saying,
"Have you ever felt the rush of adrenaline as you stepped foot on an unknown land, eager to explore its hidden wonders?"
This immediately transports readers into the world of travel and ignites their curiosity.
Create interest throughout the story
Once you have their attention, create a narrative that keeps them engaged, from start to finish. Develop relatable characters, inject conflict, and build suspense.
Consider sharing personal experiences, testimonials, or real-life examples that your audience can connect with. For instance, in a blog post about overcoming challenges, you could weave a story about a person who faced adversity but emerged stronger, inspiring your readers with their journey of resilience.
Remember, storytelling is not just about entertainment; it's a powerful tool for engagement and connection.
When you start strong, maintain a captivating narrative, and incorporate relatable elements, you will forge a genuine bond with your audience.
So the next time you create content, put on your storyteller's hat and captivate your readers from the very first sentence.
Crafting the Narrative: Develop a Captivating Brand Story
Crafting a captivating brand story is like building the foundation of your business's identity. It's your leverage over the competition and resonates with your target audience.
Nike started from the trunk of a car!
One well-known company that has a captivating brand story is Nike. From its humble beginnings to becoming a global athletic powerhouse, Nike's brand narrative resonates with audiences worldwide.
Nike's story starts with its co-founders, Bill Bowerman and Phil Knight, who shared a passion for running and innovation.
Underdogs
Their journey began in the 1960s, when they started selling running shoes out of the trunk of their car at track meets. This grassroots beginning reflects the spirit of an underdog, a small team with big dreams.
As Nike grew, they faced numerous challenges, including fierce competition and financial struggles.
However, their determination never wavered. They pushed boundaries, redefining what athletic footwear and apparel could be. Nike's "Just Do It" slogan became a rallying cry, encouraging individuals to overcome obstacles and reach their full potential.
Nike's Brand Story
But Nike's brand story goes beyond product innovation. They have consistently championed athletes and their stories, celebrating their triumphs and highlighting their struggles.
Nike has stood at the forefront of social and cultural movements, fearlessly tackling controversial topics and promoting inclusivity.
Epic Brand Storytelling – Air Jordan
One of the most iconic twists in Nike's brand story is their partnership with basketball superstar Michael Jordan,  as told in the movie, "Air".
Michael Jordan almost didn't choose underdog Nike. But management took a huge risk by creating the 'Air Jordan' line, which along with Michael's rise to basketball history, absolutely revolutionized the sneaker industry.
The Air Jordan line became a worldwide symbol of athletic excellence, style, and individuality. This collaboration embodies Nike's ability to merge storytelling, sports, and culture into an unparalleled and lucrative brand experience.
The Founder of Nike has donated over $3 billion to charity over the years.
Develop Your Brand's 'Storytelling' in Content Marketing
Developing a brand story for any size company is an exciting opportunity to establish a unique identity and connect with your target audience. To develop a captivating brand story:
Identify core aspects that define your brand
Consider your mission, values, and unique selling proposition. What makes your business special?
Once you have a clear understanding of your brand's essence, weave it into a compelling narrative that showcases your story. For example, think about the challenges you faced in the initial stage of your business, the milestones you've achieved, and the influence you've had on your customers' lives.
By sharing these elements, you create a story that aligns with your audience's aspirations and establishes an emotional connection.
Authenticity is key
Be genuine and transparent in sharing your journey. Your audience wants to connect with real experiences and people, so don't be afraid to show the human side of your business.
Consider incorporating customer success stories or testimonials to demonstrate how your brand has made a positive difference. People are drawn to stories that evoke emotions. So evoke those feelings by highlighting the transformation or success your customers have experienced with your product or service.
Captivating brand story builds a loyal community
By sharing your brand's values and mission, you create a sense of belonging and purpose. Your story becomes a rallying point for customers who share your vision.
Take the time to craft a narrative that truly represents your brand's essence and inspires your audience. A captivating brand story has the power to elevate your business and establish a lasting connection with your customers.
Emotional Connections: Tapping into the Power of Storytelling for Audience Engagement
Emotional connections: The secret sauce of storytelling
Strong emotions have the power to deeply engage your audience and create lasting impressions. When it comes to storytelling in content marketing, tap into the emotional side of storytelling. That will make all the difference.
People make decisions based on emotions, and by evoking the right feelings, you can capture their attention and drive action. Think about the emotions you want to evoke in your audience—joy, inspiration, empathy, or even a sense of nostalgia.
Use relatable characters and real-life examples
When your audience sees themselves or someone they relate to in your stories, they become emotionally invested. Share stories of individuals who have benefited from your product or service. Highlight their journey and the positive impact your brand had on their lives.
or instance, if you're promoting a fitness product, share a transformation story of someone who achieved their health goals through your offering.
By showing the emotional journey, your audience can connect with the challenges, triumphs, and the overall transformation.
Authenticity is key
Establish authentic emotional connections through storytelling. People can instinctively sense when a story is genuine and when it's just a marketing ploy.
Be true to your brand's values and voice, and let your stories reflect that authenticity. Share personal experiences, anecdotes, or even vulnerability that resonates with your audience.
When you open up and share the human side of your brand, it builds trust and strengthens the emotional bond with your audience.
As you begin storytelling in content marketing, weave in the power of emotional connections. Use storytelling to evoke the desired emotions, incorporate relatable characters and real-life examples, and always stay true to your brand's authenticity.
By tapping into the emotional side of storytelling, you'll engage your audience on a deeper level and create a connection that goes beyond transactional interactions. You'll create Raving Ambassadors who tell your story again and again, online and in person.
Storytelling Across Platforms: Adapt Narratives for Unique Content Formats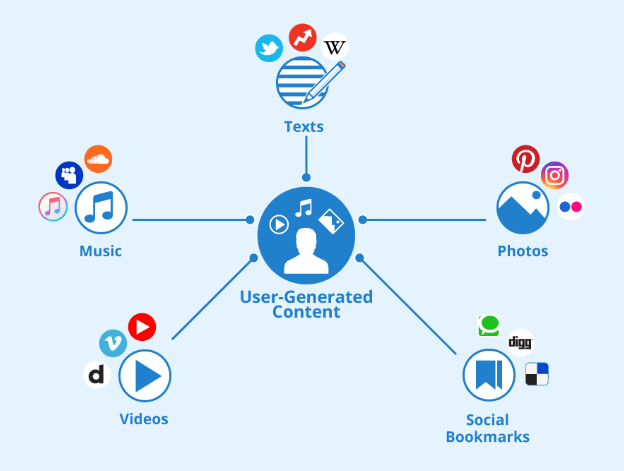 Storytelling in content marketing doesn't just happen in one place, like your website.
It spans across a variety of different platforms and content formats. Each one has its own unique set of  characteristics and audience preferences.
Adapting your narrative for different formats is essential to maximize the impact of your brand storytelling.
Social Media Differences
When crafting your brand story, consider the strengths and limitations of each platform.
For instance, on social media platforms like Instagram or Twitter, where attention spans are short, focus on concise and visually appealing storytelling. Use captivating images or videos accompanied by brief, impactful captions that leave a lasting impression.
On the other hand, if you're creating long-form content like blog posts or articles, you have the opportunity to dive deeper into your narrative, providing more context and details.
Consider audience preferences
Another crucial aspect of adapting your narrative for different content formats is understanding your audience's preferences.
Each platform attracts a different audience and serves a unique purpose. Tailor your storytelling to align with the expectations of the platform and the preferences of the audience.
For example, if you're targeting a younger demographic on platforms like TikTok or Snapchat, you might want to incorporate more interactive and visually engaging elements, such as polls or augmented reality filters.
However, if your target audience is professionals on LinkedIn, a more informative and educational approach is more suitable.
Storytelling across platforms – Summary:
Storytelling is not a one-size-fits-all approach. By adapting your narrative to suit different content formats and platforms, you can reach a wider audience and effectively engage them with your story.
Understand the strengths and limitations of each platform, tailor your storytelling to resonate with your audience's preferences, and make the most of the unique opportunities each platform offers.
By doing so, you'll ensure that your story reaches its full potential across diverse channels, increasing its impact and creating a lasting impression on your audience.
The Hero's Journey: Use Hero Stories to Connect with Your Audience
The hero's journey is a storytelling framework that has captivated audiences for centuries. It follows a narrative structure where a hero embarks on a transformative journey, facing challenges, learning valuable lessons, and ultimately emerging victorious.
By engaging the hero's journey, you can connect with your audience on a deeper level and create a memorable and impactful storytelling experience. The hero's journey resonates because it mirrors the universal human experience of growth and overcoming obstacles.
To effectively use the hero's journey storytelling in content marketing:
Start by identifying the hero
The hero is of course the main character or protagonist of your story. This could be your brand, a customer, or even your audience.
Establish the hero's call to action – their challenge to overcome
This could be a problem your product or service solves or a common pain point your audience faces.
Take your audience on the journey
Show them the steps the hero takes, the obstacles they encounter, and the lessons they learn along the way. It's important to evoke emotions and create suspense as the hero faces setbacks and ultimately reaches a resolution.
The hero's journey payoff
By aligning your brand or audience with the hero's journey, you create a powerful narrative that resonates with your audience's own aspirations and challenges. It allows your audience to see themselves as the hero, igniting a sense of empowerment and connection.
Be sure to infuse your storytelling with relatable and engaging details. Highlight the transformation, growth, or success achieved by the hero, whether it's a customer who overcame a challenge with your product or your brand's journey in making a positive impact.
By using the hero's journey framework, you can create a compelling narrative that captivates your audience and leaves a lasting impression.
Storytelling in Social Media: Create Engaging Stories that Drive Brand Awareness

Social media has become a powerful platform for storytelling. These social platforms enable brands to connect with their audience in a more personal and engaging way.
When it comes to creating stories on social media, there are a few key points to keep in mind.
Leverage the features of each platform to create interactive and visually appealing stories
Platforms like Instagram and Facebook offer features like polls, stickers, and filters that can enhance your storytelling and encourage audience participation. By utilizing these tools, you can make your stories more interactive and memorable.
Focus on creating authentic and relatable stories
Align stories with your brand's values and resonate with your audience. Social media users appreciate genuine content that feels human and relatable.
Share behind-the-scenes glimpses, user-generated content, or real-life examples that showcase your brand's personality and connect with your audience on an emotional level. This builds trust and strengthens the relationship with your followers.
Be consistent with storytelling on social media
Develop a consistent brand voice and style that aligns with your overall brand identity. This reinforces a cohesive and recognizable presence across social media platforms.
Plan your stories in advance and ensure they align with your content calendar and marketing objectives. By maintaining consistency, you establish a strong brand presence and keep your audience engaged and connected.
Storytelling in social media – Summary:
In summary, social media provides a unique opportunity to tell stories that drive brand awareness. Leverage interactive features, create authentic and relatable content, and maintain consistency in your storytelling. By doing so, you can engage your audience, build a loyal following, and increase brand awareness on social media platforms. S
o, get creative, share compelling stories, and watch your brand's presence and influence grow.
Incorporate User Stories: Amplify Content with Authentic Narratives
Incorporating user stories into your content is a powerful way to amplify your message and create authentic connections with your audience. User stories are narratives shared by your customers or users that highlight their experiences, challenges, and successes.
By incorporating these stories into your content, you add a layer of authenticity and credibility that resonates with your audience. Here are a few key points to consider when incorporating user stories into your content strategy.
Feature the right user stories
Look for stories that align with your brand values and reflect the desired impact of your product or service. These stories should be relatable to your target audience and showcase the benefits or solutions your brand offers.
For example, if you're a weight loss brand, feature user stories of individuals who achieved their weight loss goals using your product or service. Their stories of transformation are enormously motivating and inspiring for your target audience.
Leverage different content formats
Showcase user stories effectively with written testimonials, video interviews, or even social media takeovers. Bring these stories to life. Visual and interactive content captures attention and evokes emotions.
to enhance the impact of the stories, consider using compelling visuals. For example, before-and-after images or quotes from users are compelling and hold visitors' attention.
Always respect privacy and consent when sharing stories
Obtain their permission and ensure that they officially authorize the use of their stories. It's also essential to give credit where it's due. Highlight the individuals behind the stories and acknowledge their contribution. This not only builds trust but also encourages others to share their experiences.
Incorporate user stories as a game-changer for your brand
It adds credibility, relatability, and authenticity to your messaging. So, listen to your customers, showcase their stories, and let their experiences become a powerful tool to amplify your content and connect with your audience.
Storytelling and SEO: Optimize Content for Search Engines without Compromising the Narrative
Create storytelling in content marketing and SEO. Be sure to find the right balance between captivating narratives and search engine optimization – it's crucial.
Ideally, your content will both attract and engage readers, while also being SEO'd for discovery by search engines. Key points to consider when optimizing your content without compromising the narrative:
Research keywords that align with your story
Incorporate these keywords naturally throughout your content, including in headings, subheadings, and the body of your text. However, avoid 'stuffing' keywords which will negatively impact the readability of your story and your ranking in search results. Focus on creating high-quality, informative content that naturally incorporates relevant keywords.
Optimize the technical aspects of content for SEO
This includes optimizing your page titles, meta descriptions, and URLs to reflect the key elements of your story. Utilize descriptive and engaging meta descriptions that entice readers to click on your content when it appears in search results.
Also, ensure that your website's structure is user-friendly and easy to navigate. This allows search engines to crawl and index your content accurately.
Earn backlinks from authoritative sources
Backlinks enhance your content's visibility and SEO performance. Engaging storytelling can attract attention and encourage other websites to link to your content naturally.
You can also reach out to relevant websites or influencers to share your story, increasing the chances of gaining valuable backlinks. Quality backlinks from reputable sources significantly impact your search engine rankings.
Summary – Storytelling and SEO
The key is to optimize your content for SEO without compromising the narrative. By incorporating relevant keywords, optimizing technical aspects, and earning backlinks, you can enhance your content's visibility and reach while maintaining the integrity of your storytelling in content marketing.
So, go ahead and create captivating narratives that intrigue your audience and are search engine friendly.
Leverage Data for Effective Storytelling: Understand Audiences and Tailor Content
Leveraging data for effective storytelling is a game-changer in content marketing. When you understand your audience and tailor your content accordingly, engagement is significantly enhanced.  And meaningful connections are made naturally.
Factors to consider when using data to optimize your storytelling include:
Analyze audience data: Gain insights to preferences, interests, and behaviors
Utilize tools like Google Analytics, social media analytics, or customer surveys to gather valuable information about your audience. This data reveals demographic details, browsing patterns, content preferences, and more.
By understanding your audience on a deeper level, you will create content that resonates with their specific needs and desires.
Segment audiences based on common behaviors
Segmenting allows you to create targeted and personalized content. For example, if you're a fashion brand, you will have different segments based on age groups, style preferences, and geographic locations. By tailoring your content to each segment, you can deliver relevant stories that speak directly to their interests and motivations.
Track storytelling performance using data-driven metrics
Monitor metrics like engagement rates, click-through rates, and conversions to gauge the effectiveness of your content. This data provides insights into what resonates with your audience and helps you refine your storytelling strategy over time.
Experiment with different narrative approaches and content formats, and analyze the data to identify trends and patterns that drive success.
Data: A powerful tool that informs and optimizes storytelling
By understanding your audience, segmenting effectively, and tracking performance, you can tailor your content to create impactful narratives that resonate with your target audience. So, dive into your data, unlock valuable insights, and unleash the full potential of your storytelling capabilities.
Measure the Impact: Use Key Metrics to Analyze Storytelling Success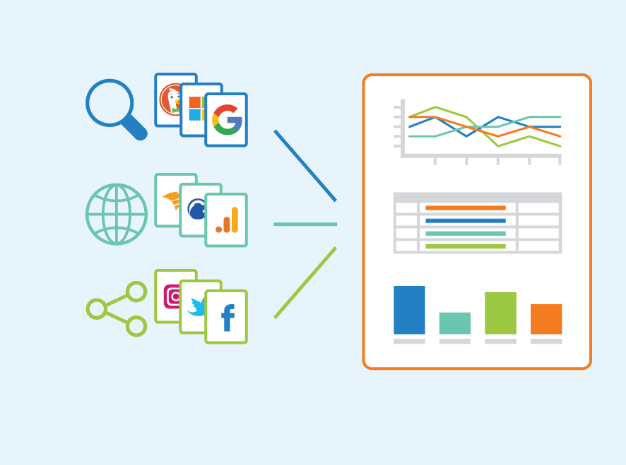 Measuring the impact of your storytelling in content marketing is essential to understand its effectiveness and make data-driven decisions.
By analyzing key metrics, you gain valuable insights into how well your stories resonate with your audience. Make adjustments to optimize your results.
Consider these key points when measuring the impact of your storytelling:
Track engagement metrics
They gauge the level of audience interaction with your content. Look at metrics such as likes, shares, comments, and time spent on page to assess how well your stories are capturing attention and generating meaningful interactions.
High engagement indicates that your storytelling is striking a chord with your audience and fostering a deeper connection.
Evaluate conversion metrics
They determine the impact of your storytelling on driving desired actions. Monitor metrics like click-through rates, conversion rates, and lead generation to understand how effectively your stories are influencing audience behavior.
By aligning your storytelling with your business goals, you can measure the tangible outcomes and the return on investment (ROI) of your efforts.
The power of qualitative feedback
Engage with your audience through surveys, comments, or direct messages to gather their thoughts and perceptions about your stories.
This qualitative feedback provides valuable insights into the emotional impact of your storytelling and helps you understand the resonance and relevance of your narratives.
The value of key metrics
By consistently measuring key metrics, you can gain a holistic understanding of the impact of your storytelling efforts. Use these insights to refine your storytelling strategies, experiment with different approaches, and continuously improve the effectiveness of your content.
Storytelling in content marketing is not just about captivating narratives. It's also about achieving measurable results.
Dive into your metrics, analyze the data, and unlock the full potential of your storytelling in content marketing.
---
ABOUT THE AUTHOR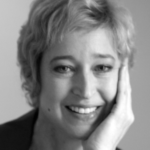 Lisa Chapman is a seasoned entrepreneur and business consultant, advising SMB owners, nonprofits and political digital marketers. She creates value through Strategic and Business Planning, Financial Forecasts for Funding, as well as Content Marketing, SEO and AI. Since 2005, she has written and ranked SEO'd business content, to engage and convert target audiences, for her own entrepreneurial ventures and for consulting clients. In 2010, Lisa started and authored a Marketing and Social Media blog that ranked nationally on Google Page One for the main keyword "marketing." It continually attracted over 1 million page views per month. For Craigslist Founder Craig Newmark, Lisa created the social media strategy that launched  his philanthropy, craigconnects.org.
Lisa's professional awards include Nashville's Executive of the Year and Small Business of the Year Finalists, as well as "40 Under 40" by Nashville Business Journal. She was interviewed by Katie Couric on NBC Today, and a wide variety of television and radio shows. Lisa has been featured and quoted in Good Housekeeping, Cosmopolitan and Readers Digest, plus dozens of city magazines and newspapers. She authored The Web-Powered Entrepreneur (2010) and four other books.