Master the Art of Content Marketing Strategy for Top Rankings:
Online success is not about creating random pieces of content and hoping for the best. It's all about mastering the art of writing valuable, engaging content, plus the science of highly competitive SEO. All in one neat package.
Expert content marketing strategy and execution have become the cornerstones of growth through high-ranking organic online promotion.
So what does it take to truly compete online?
How can you keep up with lightning-quick SEO trends and constantly changing search engine algorithms?
Current Tactics for a Successful Content Marketing Strategy
You want to be sure that your content marketing strategy cuts through all the clutter and the noise. That it both attracts and engages your target audiences.
In this article, we will unveil key content strategies, tactics, and secrets that empower you to master the art of content marketing and SEO, to unlock the door to online content success.
Get ready. We're about to take a quick dive deep into the ocean of digital content, where captivating storytelling, data-driven insights, and strategic distribution all converge to create a content masterpiece.
A good content marketing strategy attracts and engages your target audiences. And it establishes SEO with topical authority, to compete for top ranking in search engine results pages (SERPs).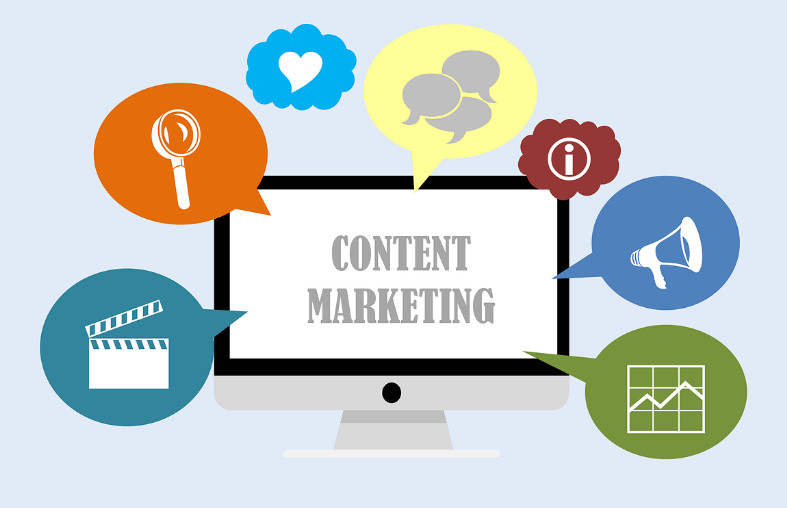 FAQs: Content Marketing Strategy
What are the 4 steps of content marketing strategy?

The four steps of content marketing strategy are planning, creation, distribution, and analysis. This involves developing a strategic approach, producing high-quality content, effectively sharing it with the target audience, and measuring its performance to refine future efforts.
What are the 4 C's of content marketing?

The 4 C's of content marketing are creation, curation, circulation, and conversion. These elements encompass the process of developing valuable content, sourcing relevant information, distributing it effectively, and ultimately driving desired actions from the audience.
What are the 4 main categories of content marketing?

The four main categories of content marketing are informational, educational, entertaining, and inspiring. Each category serves a distinct purpose, whether it's providing knowledge, teaching skills, engaging through enjoyment, or motivating and uplifting the audience.
Fundamentals of Content Marketing Strategy
A powerful content marketing strategy involves creating and distributing valuable, relevant, and consistent content in order to organically attract and engage specific audiences.
It goes beyond advertising tactics by providing useful information that educates, entertains, or solves problems for your target market. By understanding the basics of effective organic content marketing online, you unlock potential growth for your business.
Identify target audiences' needs, preferences, pain points
Research relevant keywords and topics that align with their most pressing problems and keen interests. Create high-quality, meaningful content in a variety of formats. Include blog posts, videos, infographics, podcasts, and more. Focus on providing value, being authentic, and building trust with your audiences.
Optimize your content for search engines
Strategically incorporate keywords, meta tags, and relevant links. Promote your content through many social media channels, create an opt-in email newsletter, and collaborate with influencers and industry partners. Monitor and analyze your content's performance using metrics like trends in engagement, conversion rates, and website traffic.
Master the fundamentals of content marketing
You'll be able to establish your brand's authority, foster customer loyalty, and drive business growth.
Compelling Content Marketing Strategy: Captivate Your Audience
Crafting compelling content is the key to grabbing and holding your audience's attention. Start by understanding your audience's needs, desires, and pain points. Tailor your content to resonate with them and provide valuable solutions.
Make it enjoyable
Use storytelling techniques to make your content more relatable and engaging. Share personal anecdotes, case studies, or customer success stories that evoke emotions and connect with your readers.
Make it easy to consume
Pay close attention to your writing style. Keep your content concise, clear, and easy to understand. Use headlines, subheadings, and bullet points to break up text and make it scannable.
Incorporate visuals like images, videos, or infographics to enhance the visual appeal of your content.
Make it relatable
Don't be afraid to inject your personality into your content. Show your expertise, but also let your brand's voice shine through. Be authentic, relatable, and conversational to establish a genuine connection with your audience.
Make it actionable
What do you want the visitor to do? Incorporate a call-to-action in your content. For example, if you want them to sign up for your email list, place a distinctly colored, linked button in prominent places throughout your site.
Make it rank-able!
Finally, optimize your content for SEO. Research and use relevant, high-volume, low-competition keywords and phrases in your headings, content, and meta tags. This will improve your content's visibility in search engine results and attract organic traffic.
With these basics fir an effective content marketing strategy, you'll start to craft truly compelling content that ranks organically, captivates your target audiences, drives engagement, and compels them to take action.
Keyword Research and Optimization: Boost Visibility and Organic Traffic
Keyword research and search engine optimization (SEO) are vital to your content marketing strategy. Keywords with high search volume boost the visibility of your content and drive organic traffic.
Brainstorm relevant keywords that your target audience uses in search
Your target audience is searching for exactly what you offer. Find out which keywords and related phrases they use most when searching for information, products, and services in your industry or niche.
Tools like Google Keyword Planner, SEMrush, or Moz Keyword Explorer will help you identify the most-searched keywords and relative competition for each one.
Focus on long-tail keywords
Long-tail keywords are more specific and have lower competition. Long-tail keywords often indicate more specific 'user intent', meaning that the searcher is more likely to engage – either read your information or buy.
Incorporate these keywords naturally throughout your content, including in headings, subheadings, and body paragraphs. Always avoid keyword stuffing, as it will negatively impact the readability and user experience, as well as negatively impact your ranking in search results.
Create content that is high-quality, meaningful, and valuable to your target audience
Repeat this statement: Search engines prioritize content that provides the best answers or solutions to users' queries.
Create comprehensive, well-researched content that answers your audience's top questions, satisfies their needs, and offers unique and helpful insights.
Monitor keyword rankings and adjust your content marketing strategy
Analyze your competitors' keywords to identify opportunities to differentiate yours. As you optimize your content with targeted keywords, you'll increase its organic visibility, attract more interested traffic, and ultimately drive business growth.
Effective Content Marketing Strategy: Step-by-Step Guide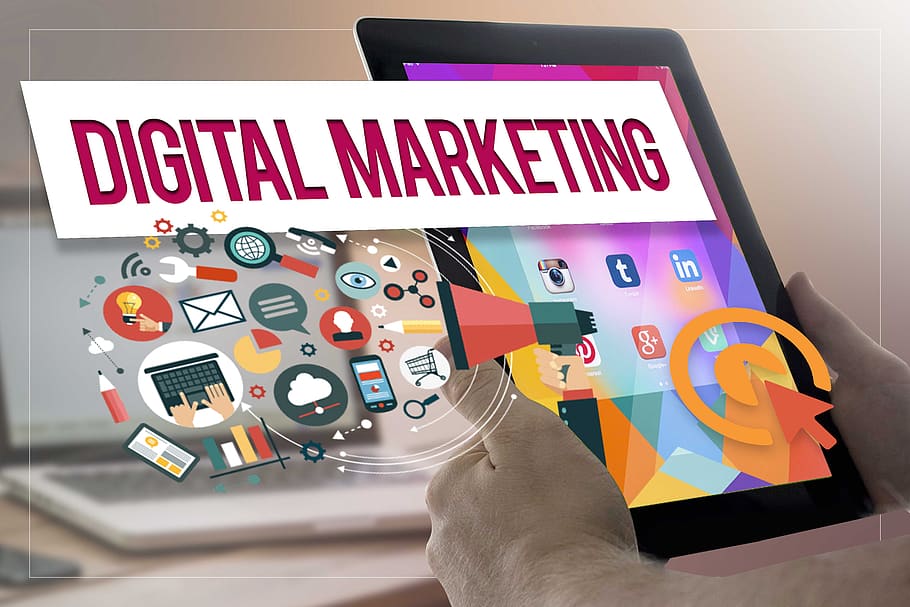 Building an effective content marketing strategy is crucial for achieving your business goals and maximizing the impact of your content efforts.
Here's a step-by-step guide to help you create a winning content marketing strategy:
Define your objectives
What do you want to achieve through content marketing?
Do you aim to increase brand awareness, generate leads, or drive sales?
Clearly define your goals to guide your strategy.
Know your target audience
Conduct thorough research to understand your target audience's demographics, interests, pain points, and preferred channels. This knowledge will help you create content that resonates with them. Consider creating a customer profile.
Content ideation and planning
Brainstorm content ideas that align with your audience's interests and address their pain points. Create a content calendar to organize and schedule your topics. This ensures consistency and coordinates team actions and accountability.
Content creation and optimization
Develop high-quality, valuable content that aligns with your brand's voice and style. Optimize it with relevant keywords, engaging visuals, and a compelling call-to-action.
Content distribution and promotion
A great content marketing strategy involves determining the most effective channels to reach your target audience. They could be social media platforms, email newsletters, or industry publications, for example. Promote your content consistently across these channels.
Measure and analyze
Regularly monitor and analyze key metrics, including website traffic, engagement rates, conversion rates, and social media interactions. Adjust your strategy based on the insights gathered.
Iterate and improve
Continuously refine your content marketing strategy based on the data collected and feedback received. Experiment with different formats, topics, and distribution channels to optimize your results.
Summary – Effective Content Marketing Strategy
By following these steps, you'll build an effective content marketing strategy that drives meaningful results and helps your business thrive online and offline. Consistency and adaptability are keys to long-term success in content marketing.
Create a Content Calendar: Organize and Plan Campaigns
A content calendar is an essential part of an effective content marketing strategy. It helps you stay organized, maintain consistency, and execute your content campaigns, on-time and on-budget.
How to create a well-structured content calendar:
Determine type of content
Identify the types of content that resonate with your audience and align with your goals. This could include blog posts, videos, infographics, podcasts, social media posts, and more.
Establish regular publishing frequency
Decide how often you'll publish new content. Consider factors like your available resources, audience engagement, and the amount of time required to create quality content. Aim for a balance between consistency and maintaining high standards.
Research and brainstorm topics
Conduct keyword research, analyze industry trends, and engage with your audience to gather ideas for content topics. Aim for a mix of evergreen topics and timely, relevant subjects.
Map out the calendar
Use a spreadsheet, project management tool, or specialized content calendar software to create a visual representation of your content schedule. Allocate specific dates or timeframes for each piece of content.
Assign responsibilities
Determine who will be responsible for creating, editing, and publishing each piece of content. Clearly communicate deadlines and ensure that everyone understands their roles and responsibilities.
Incorporate key events and holidays
Consider important dates, holidays, industry conferences, or product launches that are relevant to your business. Plan content around these events to capitalize on increased interest and engagement.
Repurpose and recycle content
Maximize the value of your content by repurposing or recycling it across different platforms or formats. Update and refresh older content to give it new life and relevance.
Set reminders and stay organized
Use reminders and notifications to ensure that you and your team stay on track with content creation, editing, and publishing. Regularly review and update your content calendar as needed.
Content calendar summary
By creating a comprehensive content calendar, you'll have a clear roadmap for your content marketing strategy. The calendar enables you to maintain a consistent presence, align content with important events, and streamline collaboration within your team.
Ultimately, a well-organized content calendar will help you deliver valuable content to your audience consistently, and achieve your content marketing strategy goals.
Content Distribution Channels: Maximize Reach and Engagement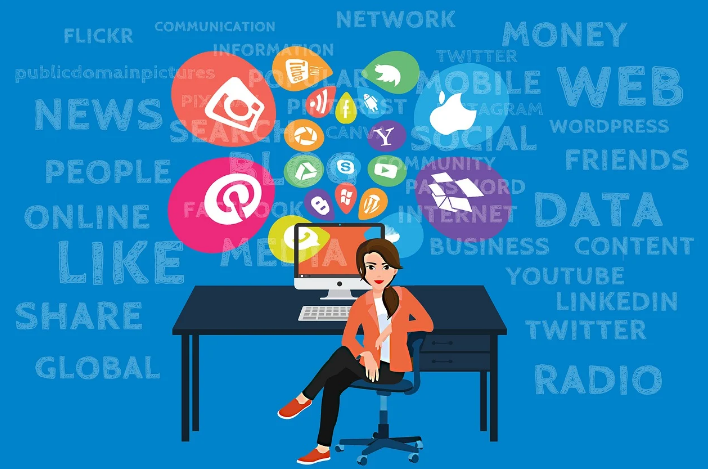 Content distribution is a critical component of your content marketing strategy. It determines how effectively your content reaches and engages your target audiences.
Key distribution channels to consider for maximizing your content's reach and engagement include:
Social media platforms
Leverage the power of social media to share and promote your content. Identify the platforms where your target audience is most active, such as Facebook, Instagram, Twitter, LinkedIn, or YouTube.
Tailor your content to each platform's format and best practices to optimize engagement. Each platform has its own algorithm for search. Apply SEO best practices for that specific content format.
Email newsletter
Build an email subscriber list and regularly share your content through newsletters. Provide valuable insights, exclusive content, and personalized recommendations to nurture relationships and encourage audience engagement.
Guest blogging
Collaborate with influential bloggers or industry publications to publish your content as guest posts. This allows you to tap into their existing audience, gain exposure, and establish your expertise in front of a new set of readers.
Content syndication
Partner with reputable websites or content syndication platforms to distribute your content to a broader audience. This can help increase brand visibility, attract new readers, and drive traffic back to your website.
Influencer collaborations
Identify influencers or thought leaders in your industry who align with your brand values and target audience. Collaborate with them to co-create content, share your content with their followers, or participate in influencer takeovers to expand your reach.
Online communities and forums
Engage in relevant online communities and forums where your target audience actively participates. Share your content when it adds value to discussions or helps answer questions, ensuring you follow community guidelines and avoid spamming.
Content amplification platforms
Explore paid content distribution platforms like Outbrain, Taboola, or Quuu to amplify your content's reach across a network of websites, reaching a wider audience beyond your organic channels.
SEO optimization
Optimize your content for search engines to improve its discoverability and organic visibility. Implement on-page SEO techniques, create valuable backlinks, and optimize meta tags and descriptions to increase your content's chances of ranking high in search results.
Content distribution summary
It's essential to tailor your content distribution strategy based on your target audience, industry, and goals. Leverage a diverse mix of distribution channels to maximize the reach and engagement of your content, driving increased traffic, brand exposure, and ultimately, business growth.
Measure Success: Key Metrics and Analytics for Content Marketing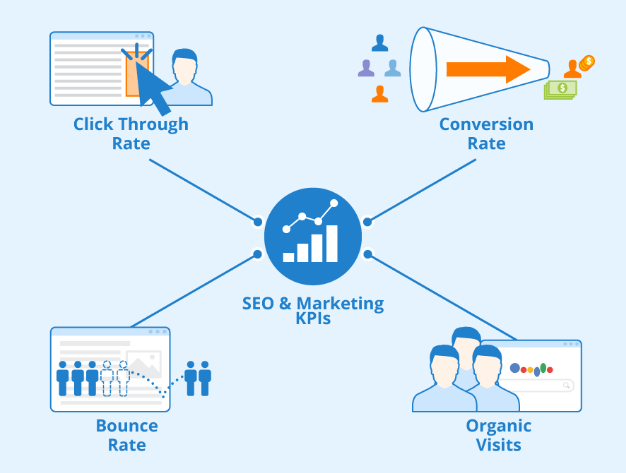 Measuring and analyzing your content marketing performance is crucial for understanding the impact of your efforts and making informed decisions to improve your strategy.
A few top key metrics and insights to consider:
Website traffic
Monitor the overall traffic to your website and track the specific pages or blog posts that receive the most visits. This helps you understand which topics or formats resonate with your audience and can guide future content creation.
Engagement metrics
Assess metrics like bounce rate, time on page, and scroll depth to gauge how engaged your audience is with your content. Higher engagement indicates that your content is capturing attention and encouraging readers to interact with it.
Conversion rates
Measure the conversion rates of your content, such as email sign-ups, downloads, form submissions, or purchases. This reveals the effectiveness of your content in driving desired actions and conversions.
Social media metrics
Analyze engagement metrics on social media platforms, such as likes, shares, comments, and click-through rates. This provides insights into how well your content resonates with your social media audience and helps you refine your social media strategy.
Backlinks and referral traffic
Monitor the number of backlinks your content earns and the referral traffic it generates from other websites. This indicates the quality and authority of your content, as well as its potential reach beyond your owned channels.
SEO rankings
Track the search engine rankings of your content for relevant keywords. Improvements in rankings indicate that your content is effectively optimized for search engines, leading to increased organic visibility.
Audience feedback and comments
Pay attention to comments, feedback, and social media mentions from your audience. This qualitative feedback provides valuable insights into how your content resonates, what topics are of interest, and areas for improvement.
Content ROI
Evaluate the return on investment (ROI) of your content marketing efforts by measuring the cost of content creation and distribution against the value generated, such as leads generated, conversions, or revenue.
Key Metrics Summary
Regularly analyze these metrics and draw insights to inform your content marketing strategy. Identify patterns, trends, and areas of improvement. Use the data to refine your content topics, formats, distribution channels, and targeting to better serve your audience and achieve your goals.
Data-driven decision-making is essential for optimizing your content marketing performance and driving continuous improvement.
User-generated Content: Harness the Power of your Audience
User-generated content (UGC) is a valuable asset in any content marketing strategy. It allows you to harness the power of your audience to create authentic and engaging content.
How to effectively leverage user-generated content:
Encourage and incentivize participation
Motivate your audience to create and share content related to your brand or industry. Offer incentives such as contests, giveaways, or rewards to encourage participation.
Make it easy for users to submit their content by providing clear instructions and user-friendly submission methods.
Showcase user-generated content
Display user-generated content prominently on your website, social media channels, or in your marketing campaigns. Highlight the creativity and authenticity of your audience, and celebrate their contributions.
This not only engages and rewards your audience but also builds a sense of community around your brand.
Curate and moderate content
Curate the best user-generated content to ensure quality and relevance. Avoid using content that doesn't align with your brand values or messaging. Moderate submissions to maintain a positive and safe environment for your audience.
Repurpose UGC across channels
Repurpose user-generated content across various marketing channels to amplify its reach and impact.
Share UGC on your social media profiles, incorporate it into blog posts or newsletters, or create dedicated UGC campaigns to showcase the creativity and enthusiasm of your audience.
Engage and interact with contributors
Show appreciation for users who create and share content about your brand. Respond to their submissions, comment on their posts, and engage in conversations.
This fosters a sense of connection and encourages ongoing participation.
Request testimonials and reviews
Encourage your audience to provide testimonials or reviews about their experiences with your brand.
These authentic and unbiased opinions can significantly influence potential customers' decision-making process.
Seek permission and give proper credit
Always seek permission from users before using their content, and give proper credit to the creators.
This shows respect for their work and builds trust with your audience.
Monitor and respond to feedback
Pay attention to the feedback and conversations generated by user-generated content. Monitor social media mentions, comments, and reviews to gain insights and address any concerns or questions promptly.
User-generated content summary
By leveraging user-generated content, you tap into the creativity, authenticity, and enthusiasm of your audience. This not only enhances your content marketing strategy, but also fosters a sense of community and strengthens the relationship between your brand and your customers.
Build Brand Authority: Position Your Business as an Industry Leader

Storytelling is a powerful tool in a content marketing strategy that ensures you captivate your audience, create emotional connections, and communicate your brand's values.
How to effectively use storytelling in your content marketing strategy:
Define your brand story
Start by understanding and defining your brand's unique story. What is your mission, values, and the purpose behind your brand? Craft a compelling narrative that reflects your brand's identity and resonates with your target audience.
Understand your audience's journey
Identify the key stages of your audience's journey, from awareness to consideration and conversion. Tailor your storytelling to address their pain points, desires, and aspirations at each stage, creating a cohesive narrative that guides them towards your brand.
Use relatable characters
Introduce characters that your audience can relate to. These can be fictional characters, customer stories, or even your employees. Humanize your brand and make the audience emotionally invested in your content by showcasing real experiences and relatable situations.
Create a compelling narrative structure
Develop a storyline with a clear beginning, middle, and end. Build tension, present challenges, and provide resolutions. Keep your audience engaged and eager to discover what happens next.
Evoke emotions
Tap into emotions to make your storytelling more impactful. Whether it's joy, empathy, nostalgia, or inspiration, evoke emotions that resonate with your audience. Emotional connections are key to capturing attention and fostering engagement.
Use visuals and multimedia
Enhance your storytelling with visual elements such as images, videos, infographics, or animations. Visuals bring your story to life, making it more memorable and shareable.
Incorporate customer testimonials
Share stories of satisfied customers who have benefited from your products or services. These testimonials add credibility and provide social proof, strengthening the emotional connection between your brand and potential customers.
Be authentic and transparent
Authenticity is vital in storytelling. Be genuine and transparent about your brand's values, successes, and even failures. This fosters trust and builds long-lasting relationships with your audience.
Incorporate storytelling across channels
Extend your storytelling beyond blog posts and incorporate it into your social media posts, email newsletters, videos, podcasts, and other content formats. Consistency in storytelling helps reinforce your brand's narrative and identity.
Brand Authority Summary
By leveraging the power of storytelling, you can engage and connect with your audience on a deeper level. A well-crafted story captures attention, creates emotional resonance, and compels your audience to take action, whether it's making a purchase, sharing your content, or becoming loyal brand advocates.
Content Repurposing: Extend the Life and Impact of Your Content
Repurposing content is a smart and efficient strategy that allows you to extend the lifespan and the reach of your content assets. Here's how you can maximize the value of your content through repurposing:
Identify evergreen content
Look for content pieces that have stood the test of time and are still relevant and valuable to your audience. Evergreen content forms a solid foundation for repurposing as it remains useful regardless of the passing trends.
Repurpose across formats
Transform your blog posts, articles, or whitepapers into different formats such as videos, infographics, podcasts, or slide decks. This enables you to reach a wider audience who may prefer consuming content in different formats.
Extract key insights
Extract key insights, statistics, or quotes from your existing content and turn them into social media posts, quote graphics, or short snippets for sharing on various platforms. This helps increase visibility and generates interest in your full-length content.
Update and refresh
Update outdated or underperforming content by adding new information, examples, or case studies. Refreshing the content not only keeps it relevant but also improves its search engine visibility and attracts new readers.
Create content series
Break down longer pieces of content into a series of shorter, more digestible segments. This allows you to dive deeper into specific subtopics and encourages your audience to engage with multiple pieces of content.
Develop guides or eBooks
Combine related blog posts or articles into comprehensive guides or eBooks. This consolidates your expertise on a specific topic and provides a valuable resource for your audience.
Republish on different platforms
Take advantage of different publishing platforms by republishing your content on Medium, LinkedIn Pulse, or industry-specific platforms. Ensure that you tailor the content to fit the platform's guidelines and audience.
Convert webinars or presentations
Convert recorded webinars or presentations into on-demand videos or slide decks. These can be shared on your website, social media channels, or repurposed as educational resources for your audience.
Translate into different languages
Reach new audiences by translating your content into different languages. This opens up opportunities in international markets and helps you connect with a diverse range of readers.
Incorporate user-generated content
Integrate user-generated content into your repurposing strategy. Leverage testimonials, reviews, or user-created content to enhance your existing pieces and add social proof.
Content repurposing summary
Repurposing content not only maximizes the value of your existing assets but also allows you to reach new audiences, increase engagement, and reinforce your brand's expertise. By strategically repurposing your content, you can extend its lifespan, improve its visibility, and generate a higher return on your content marketing strategy.
---
---
ABOUT THE AUTHOR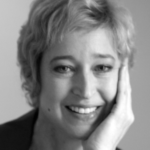 Lisa Chapman is a seasoned entrepreneur and business consultant, advising SMB owners, nonprofits and political digital marketers. She creates value through Strategic and Business Planning, Financial Forecasts for Funding, as well as Content Marketing, SEO and AI. Since 2005, she has written and ranked SEO'd business content, to engage and convert target audiences, for her own entrepreneurial ventures and for consulting clients. In 2010, Lisa started and authored a Marketing and Social Media blog that ranked nationally on Google Page One for the main keyword "marketing." It continually attracted over 1 million page views per month. For Craigslist Founder Craig Newmark, Lisa created the social media strategy that launched  his philanthropy, craigconnects.org.
Lisa's professional awards include Nashville's Executive of the Year and Small Business of the Year Finalists, as well as "40 Under 40" by Nashville Business Journal. She was interviewed by Katie Couric on NBC Today, and a wide variety of television and radio shows. Lisa has been featured and quoted in Good Housekeeping, Cosmopolitan and Readers Digest, plus dozens of city magazines and newspapers. She authored The Web-Powered Entrepreneur (2010) and four other books.