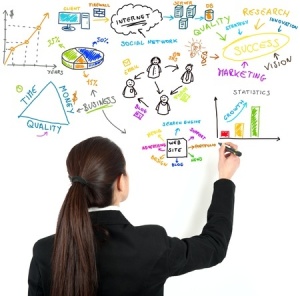 The internet is now the #1 resource that people use to find what they need. It's common sense that you want to be online where your Target Audience – your current and potential customers – already browse.  They're on social media sites.
What is Social Media vs. Social Networking?
"Social Media are tools for sharing and discussing information.  Social Networking is the use of communities of (mutual) interest to connect to others."
– Lon S. Cohen
How Social Media Marketing Works
Increase your website's traffic by making sure that you establish a presence on the social media sites that your Target Audiences check every day. You'll learn how to:
effectively listen
engage in online conversations
post search engine optimized content that attracts new visitors to your site
establish your brand as an industry subject matter expert
jump start your online media to help your business grow & profit
Unlike offline media that is released and gone in minutes, social media is an investment that is available to online searchers forever, and pays you unlimited dividends. If you're not in the game yet, you need to join soon, or it may be very difficult to catch up.
Your Social Media Strategy
It's important to develop a Social Media Strategy, which takes focused research to develop. But in the long run, research ensures that you aren't wasting your time and financial resources on frustrating social media efforts that don't pay off. With the right planning and strategy to reach your Target Audiences effectively, social media will increase visitors that convert to Buyers.
6 Reasons Why Social Media Grows Your Business – and Profits
Social media is not only good for business, it's imperative. Your competitors are increasingly effective with their digital media, so tracking their progress and staking your own competitive claim online is no longer optional. It's required. Just a few of the immediate benefits include:
Dramatically showcase your business – social media is the perfect way
Social media has revolutionized how business works. Through social media, you can easily (and cost-effectively) educate and impress your Target Audience, both current and potential customers.  For example, you can easily video customer endorsements and share them with your social media connections. Testimonials are powerful. People love them. And Google loves video.
Increase your business' credibility and reputation
Most professionals I know now have a dynamic presence on LinkedIn. With a great LinkedIn profile, you can get important endorsements from your LinkedIn Connections. And you know the power of unsolicited endorsements. (They make ME feel good – you too?) It's called 'credibility by association', which certainly makes attracting new customers, closing contracts, and growing your business a lot easier.
Connect with your Target Audience
Over 93% of marketers use social media for business. Does that statistic include you? Facebook is one of the most popular, with over 1.3 billion (yes, with a 'B') monthly active users.  It's a fact that 90% of people trust online recommendations from people they know. (See more Social Stats here.) Engage in the conversation and your brand will automatically be seen and heard. Remember that everything you post can be seen for a long, long time. So if you wouldn't want it on the front page of the New York Times, don't post it online.
Social Media delivers more traffic to your website
Just having a website simply isn't enough anymore. Social media will increase your site's visibility, if you're well-optimized. But if your SEO work is still in progress, social media will help deliver more traffic to your site. Social Media is becoming enormously important to search engines. Have you noticed that many, many search engine results pages (SERPs) include a result from Pinterest? Or Facebook? That's because these sites are well-linked, contain relevant and well-optimized content, get lots of visitors, and have a very high page rank. All these factors, among others, weigh heavily in the search engines' algorithms. You definitely want to be associated with these social media sites, with a link back to your own website (called a "backlink"). Backlinks from high ranking social media sites show search engines that you're real, your content is worth consuming, and you're a go-to source in your niche.
Get AUTHENTIC customer feedback through social media
When people (for example, your customers) have anything to share – good or bad – about their experience with your company, product or service – they share it on social media sites. People really enjoy expressing their voice. Through social media, their voice is amplified and their message is broadcast widely, possibly millions of times. When you listen online, the better you'll understand your customers and the better your business decisions will be. Both online and offline.
Growth Companies Use Social Media
Social media is even more important to "hyper growth" companies, or those that self-report "significant" year-over-year revenue growth. Of the hyper-growth companies in a recent survey (about 16% of the entire group), 91% said social media helped them "increase awareness of their brand", while 82% said it helped to "generate new leads." Nearly three quarters of the hyper-growth companies increased their social media budgets last year.
Call to find out how you can improve your social media strength. And your bottom line.