CUSTOM CONTENT & SEO SERVICES | LISA CHAPMAN CONSULTING
SEO Campaigns for Entrepreneurs, Solopreneurs, Small Businesses, Nonprofits, and Political Campaigns nationwide.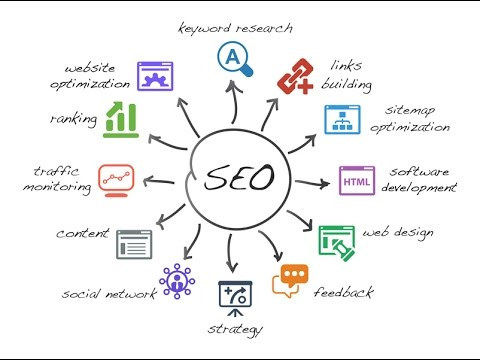 Online marketing is more competitive than ever. The battle to rank on Page 1 Google is fierce.
Since 2005, we have created and managed predictably profitable SEO campaigns for an array of entrepreneurs, solopreneurs, small businesses, nonprofits, social justice organizations, and political campaigns.
WHAT WE DO
Our work includes everything digital, from A to Z, specializing in Search Engine Optimization (SEO) to get fast, organic ranking on Page 1 Google, YouTube, and other highly competitive social media platforms and search engines.
Additionally, we're pleased to provide digital advertising solutions and services.
And we encourage you to consider a content marketing campaign that is professionally optimized for high ranking, because you are sure to solidify your branding online and save a significant amount of money in the long run.
As a white glove service, we accept a limited number of clients, with whom we work closely and make a significant impact.
CHECK YOUR SITE'S KEYWORD POSITION
Where do your site's most important a or profitable keywords rank? Call to find out.

ARE YOU A GOOD FIT FOR OUR SEO SERVICES?
An example of a good fit for this type of focused SEO campaign is a professional who desires to gain new clients and increase revenues through improved search engine visibility, which converts to more website traffic, phone calls and new clients.
Organic SEO helps your website attract your target customer and tell your story to your target market. It's a must-have for competitive marketers.
TARGETED, BUYER-INTENT SEO SERVICES WILL DO THIS FOR YOU:
Working with a professional SEO Consultant will help your business accomplish all this, and more:
Attract your target audience – and increase traffic to your site or offer
Reinforce your branding, credibility and online authority
Cross-market your other online activities, such as social media
Establish a more competitive position
Bring your business more money without a lot more work
BEST SEO – IMPROVE MY SEARCH RANKING
Our focus is not only on improving your business's website traffic and Google ranking positions. We also obsess over achieving your goals for branding, visibility, and increased revenue. What good is increased traffic if it doesn't lead to more customers and increased sales?
CASE STUDY – SUCCESSFUL SEO RESULTS LOOKS LIKE THIS…
Here's a case example from one of our retail clients:
When a consumer in Nashville TN is on the hunt to buy a pool table, they usually go straight to Google and search: POOL TABLES NASHVILLE TN.  After working on this client's website and content SEO, Google showed consumers these results: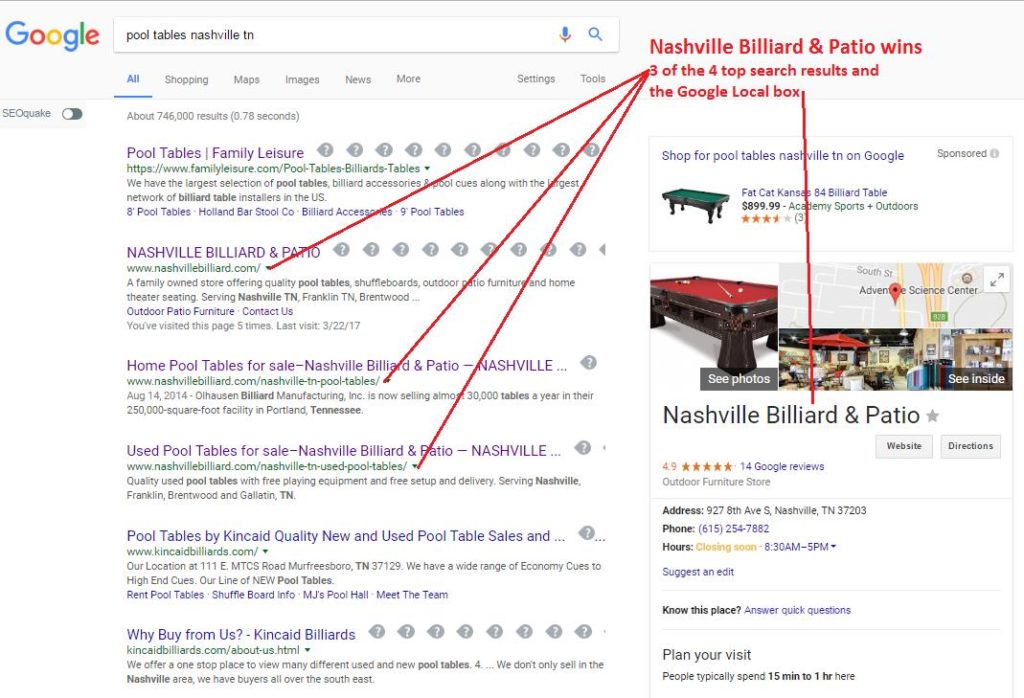 PAGE ONE GOOGLE
We achieved the ranking results in the screenshot above for our client Nashville Billiard & Patio, a family-owned business. Clearly beating out a larger corporate competitor, they occupied an unheard-of FOUR top spots on Page 1 of Google's SERP for their buyer-intent keyword phrase "Pool Tables Nashville TN".
We achieved this after carefully researching buyer-intent keywords and optimizing their website and content. These results attract buying  customers into their store. 
We also achieved top ranking on Google Page 1 for a long list of their best 'money' keywords, including:
"Shuffleboard Tables Nashville TN"
"Shuffleboards Nashville TN"
"Home Theater Seating Nashville TN"
"Kitchen & Bar Stools Nashville TN"
…and many more.
The owners of this company report that many of their customers first find them through internet search. That's our superpower!
While working the SEO plan, we started to see results after only a few months. These strong competitive positions on multiple #1-3 rankings for  buyer-intent keywords take exacting keyword research and specialized skills and experience to solidify. Every one of our clients is unique.
BOUTIQUE SERVICES
By design, we work with only a handful of clients, on a predetermined schedule – with ranking goals for their specific target keywords, winning top spots in the SERPs.
After we achieve and sustain a client's rankings, visitors, traffic volume and/or revenue goals, it may be possible to maintain those rankings with less work. That's when a spot opens up for a new client.
And, of course, that's an opportunity for you.  Before we let the word out that a new client spot may be open, we touch base with those on the waiting list to see if they're ready to start an SEO campaign.
'IMPROVE MY RANKING' SERVICE
If you're interested, we'll discuss your goals, take a look at your site, and research your top keywords to determine if we can help. If we believe that we can get your website and content ranked on Page 1 Google, then we'll discuss the details of the custom SEO strategy, plan and pricing.
Schedule a call with Lisa to discuss your business goals. We'll assess your SEO success potential and chat about the who, what, when, where and how of working together.