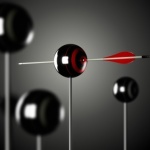 Did you know that 70% of your Target Audience uses online search to find your service or product, and 75% of them never click past the first page of results?
So if you're not on that first page, you need to up your SEO efforts.
What is Search Engine Optimization (SEO)?
According to Wikipedia, "Search engine optimization (SEO) is the process of affecting the visibility of a website or a web page in a search engine's "natural" or un-paid ('organic') search results."
It's not always about getting visitors to your site, but getting the right kind of visitors. That's what MOZ proclaims at the beginning of their very useful "Beginners Guide to SEO" which has been downloaded over a million times. If you're looking for a digestible resource for doing SEO yourself, I highly recommend this guide to jump start your SEO work.
Google's Search Algorithm
As you most likely know, Google leads the competition among online search engines by a great margin. For many years, Google has led the pack by a very wide margin, with Yahoo in second place, and Bing trailing. All others must share the remaining portion, with no one search engine coming even close to any other's market share. For that reason, when discussing search engines, ever-powerful Google is the industry standard.
Google's Algorithm
Google's secret formula is its closely guarded algorithm. Since Google doesn't publish its algorithm info, analysts must dig really deep to study patent applications, and conduct repeated sensitivity tests in order to piece together the algorithm equations and formulas. SEO analysts have performed hundreds of comparison tests. And they publish their findings online – to help the SEO community help others to 'optimize' their websites.
In the general public, relatively few people know what's in the algorithm.From the analysts' information, we do know that over 200 factors are applied to every site that Google spiders and indexes.
Exactly what are they? How does your URL compare?
Good SEO must not only achieve high ranking for your site, but it must also make your site so appealing to your Target Audience that searchers choose to click through to YOUR site – and stay there for awhile.
Most Effective Optimization Strategies
Google makes at least five algorithm changes each month. SEO strategies rise and fall with Google's algorithm changes, which are more or less drastic, depending on their desire to emphasize certain factors in the search results.
The following message from an informative SEO industry news site reports that Content Marketing and Link Building are two premier strategies used by SEOs to gain the most search engine 'juice' for websites.
The Future of Link Building: 5 Important Messages for SEOs
Search engine optimization best practices change at a rapid pace thanks to the evolution of technologies and the adjustments made to Google's Webmaster Guidelines. SEOs find it challenging to keep ahead in this constantly evolving marketing tactic. Attending conferences and reading search engine trade journals highlights that content marketing has become the new industry buzzword.
With the proper resources, content marketing and social media marketing can be incredibly effective. But within pure SEO, link acquisition must be a primary concern.
This white paper from Page One Power contains 5 important messages for SEOs:
Links are still the core of Google's search algorithm.

Link building and content marketing are fundamentally different.

Content marketing is difficult to do well.

Link building can supercharge your content marketing efforts.

You can still build links even if you don't have great content
(From Digital Marketing Depot)
If you want to stay ahead of your competitors online, periodic SEO review of your site is crucial.