Are you sick and tired of BAD fencing leads – like these:
You keep calling back – no response | You're competing with 5 others
The job's too small | It's in Timbuktu
They have no clue what they want | They never make a decision
They can't afford you | And on and on
They're WASTING your time – and costing you money.
YOU CAN ACTUALLY GET THESE:
Direct calls – Exclusive to you –
From people searching – Right now –
To hire for a good flooring project –
In your geo area.
You CAN get a predictable, steady flow of quality flooring leads and jobs.
You CAN keep your crews busy,
Increase your profits, and
Grow your business every month.  
BlueBird Fence Company is a typical example
of how 
our fencing partners prosper – right away: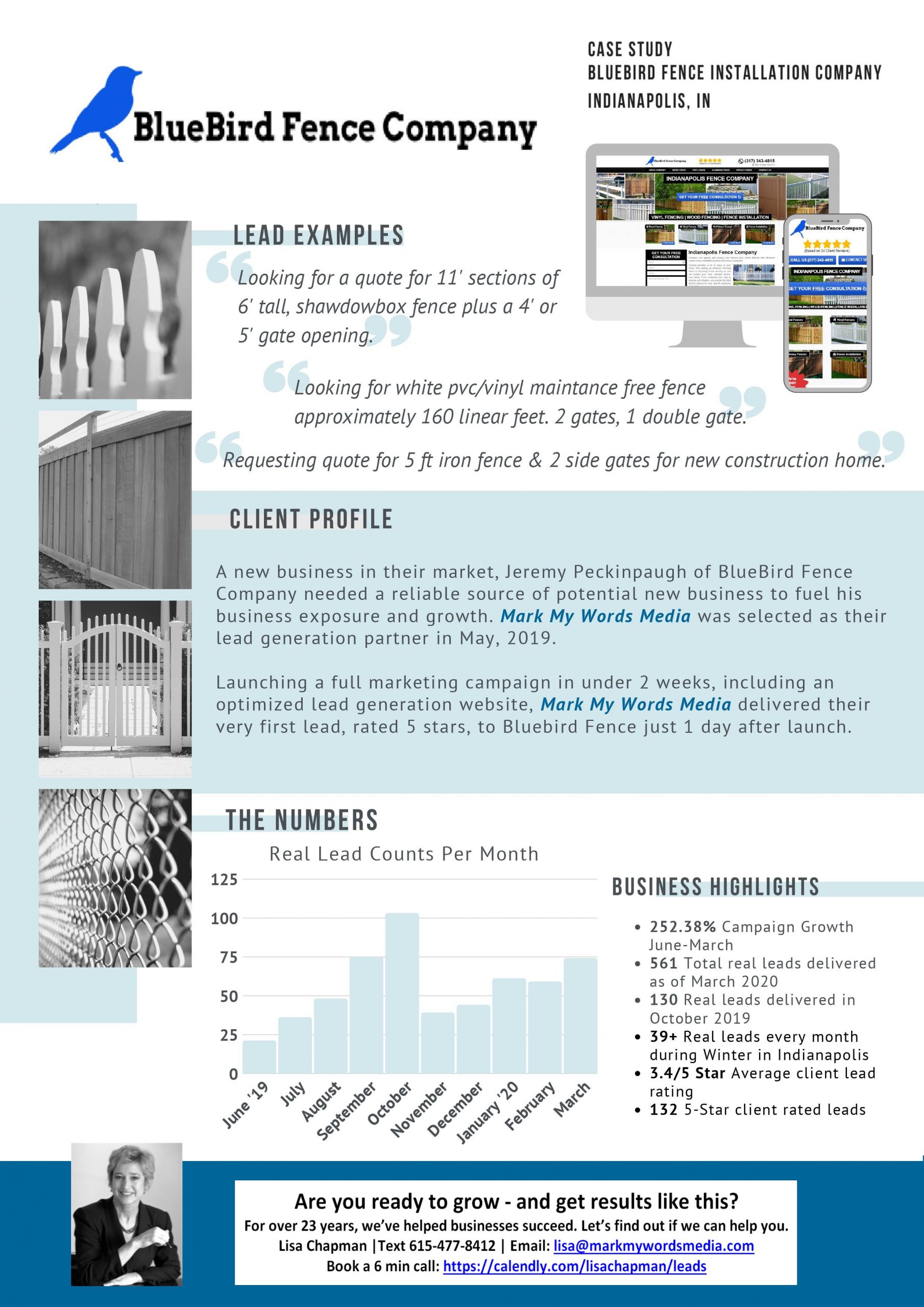 Winter in Indianapolis – Fencing leads remain strong
How to find out if your company is a possible fit…
After I get clear on YOUR CUSTOMER TARGETS, my Research Team can tell us exactly what we will deliver to you every month – starting Month 1. Just like we do for BlueBird Fence – and just like we do for all our partners.
We've been doing this for 23 years.
'SECRET SAUCE': OK, you're still reading… So here's just ONE REASON we're so unique, and how we deliver strong, predictable results…
You grade each lead. We're actually good enough to use that data to continually 'tweak' your campaign – so you get more of what you want and less of what you don't want.
But there's so much more for you to know.
I look forward to exploring the potential for your business.
The first step takes about 6 minutes
BOOK A CALL  https://calendly.com/lisachapman/leads
EMAIL lisa at markmywordsmedia dot com